posted by Dyske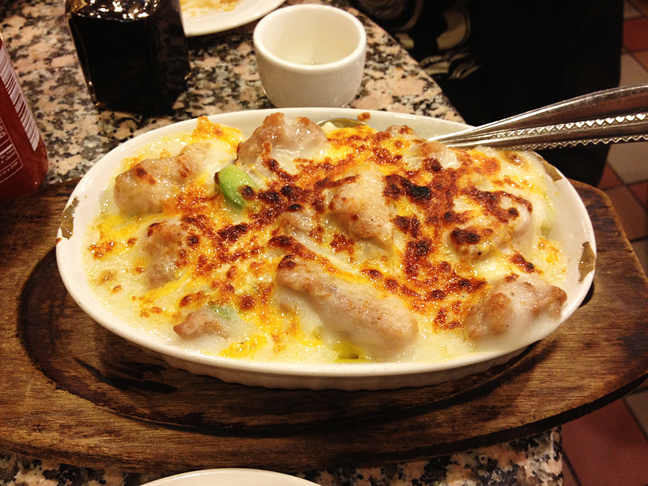 This is what I would call yellow trash food. It's chicken and cheese over rice. It tastes amazing. I loved this. Check it out at Xo Kitchen, 148 Hester St, New York 10013, (Between Elizabeth St & Bowery)
3 Responses to "Yellow Trash Food"
perez de vargas abogados estepona says:

April 2nd, 2012 at 6:23 pm

That sounds like so much fun. Eat some chicken for me!

Fried Sushi says:

April 16th, 2012 at 4:41 pm

Yellow Trash Food <–what an awesome moniker

Thanks for the chicken and cheese over rice idea. Looks good. Got any more?
Btw, what's the green stuff?

I have one. Mushroom and Natto pizza ( thin crust.) If you have access to fresh shiso leaves, sprinkle on like basil.

I also like putting uni in salsa. Got the idea from guacamole salsa. Just replace guac with uni ( nama uni not the jar crap.)

Please post more Yellow Trash Food ideas. Happy meals don't make me happy anymore

Leoma Naik says:

April 27th, 2012 at 7:11 am

I am a social justice advocate for all people. I am writing my dissertation on African American women and their social and institutions struggles that they overcame to become successful. I ran across your website and found it interesting.
Leave a Reply
We (i.e. the creators of AllLookSame.com) developed a series of iPhone apps for preschool kids. (My wife developed the characters and I did the coding.) Our own 4-year old daughter has been enjoying them. They are now available on Apple's App Store. You can search for "bitskis" on your iPhone, or visit the official website at bitskis.com.
It's great for parents when they are traveling with kids (in a car, doctor's office, waiting for food at a restaurant, etc..). If you have kids and own an iPhone, please check it out. It's $2.