Soy Vay!
By Dyske July 17th, 2010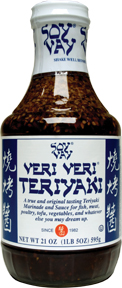 Sometimes the name alone can sell a product. I came across this bottled marinade at Key Food in my neighborhood. I thought the name "Soy Vay" was so clever that I had to get one. I have a lot of Jewish friends, so this particular combination had a special meaning for me. I wasn't expecting it to be good, but it turned out to be a great sauce. I happened to be eating onion rings at home tonight, so I dipped one in this sauce; it was so good that I decided to pour it over all of the rings. It also tasted good on fried chickens. This sauce would probably work for pretty much anything that you would use soy sauce for. I'm going to try it tomorrow with dumplings. I would imagine that it would taste good even on salad if you add a little rice vinegar.
Speaking of clever names (and Jewish food); I was at Russ and Daughters the other day, and ordered a "Super Heebster". The only difference between "super" and the regular Heebster was the Wasabi-Infused Flying Fish Roe, so I said to the guy behind the counter, "Wasabi isn't so super heeb, is it?" He laughed and told me that this particular sandwich has generated more press for them than any other products they ever sold. By the way, this is a great sandwich, and I would highly recommend getting the "super" one. For me, wasabi is what really pushes this sandwich to a different level.